Choosing the Correct Mast Adaptor for Your Foil Drive™
Updated 20 days ago
When ordering your Foil Drive™ system, you will need to select which motor pod is compatible with your mast. 
WHAT IS A MOTOR POD?
The motor pod is one of the most important parts that allows Foil Drive™ to be a retro-fitted to a growing range of foil masts. 
HOW DOES IT WORK?
The motor pod (Image 1) is a two-part attachment which is clamped around your mast (This is why your pod selection is extremely important). Four pod bolts pull the two halves together and the motor attaches on the back with a further three puck bolts (Image 2). 
Image 1     
   Image 2
CHOOSING THE CORRECT MOTOR POD
It is imperative that you choose the correct motor pod for your mast specification, not just the same brand. 
Note: Many foil brands change their mast design from year to year to improve strength or reduce drag. If you purchased your mast some time ago and you are unsure, please check with us at [email protected]
We are constantly adding to our collection of compatible motor pods, but if you find that your mast is not listed on the chart below, please click here to learn what to do next.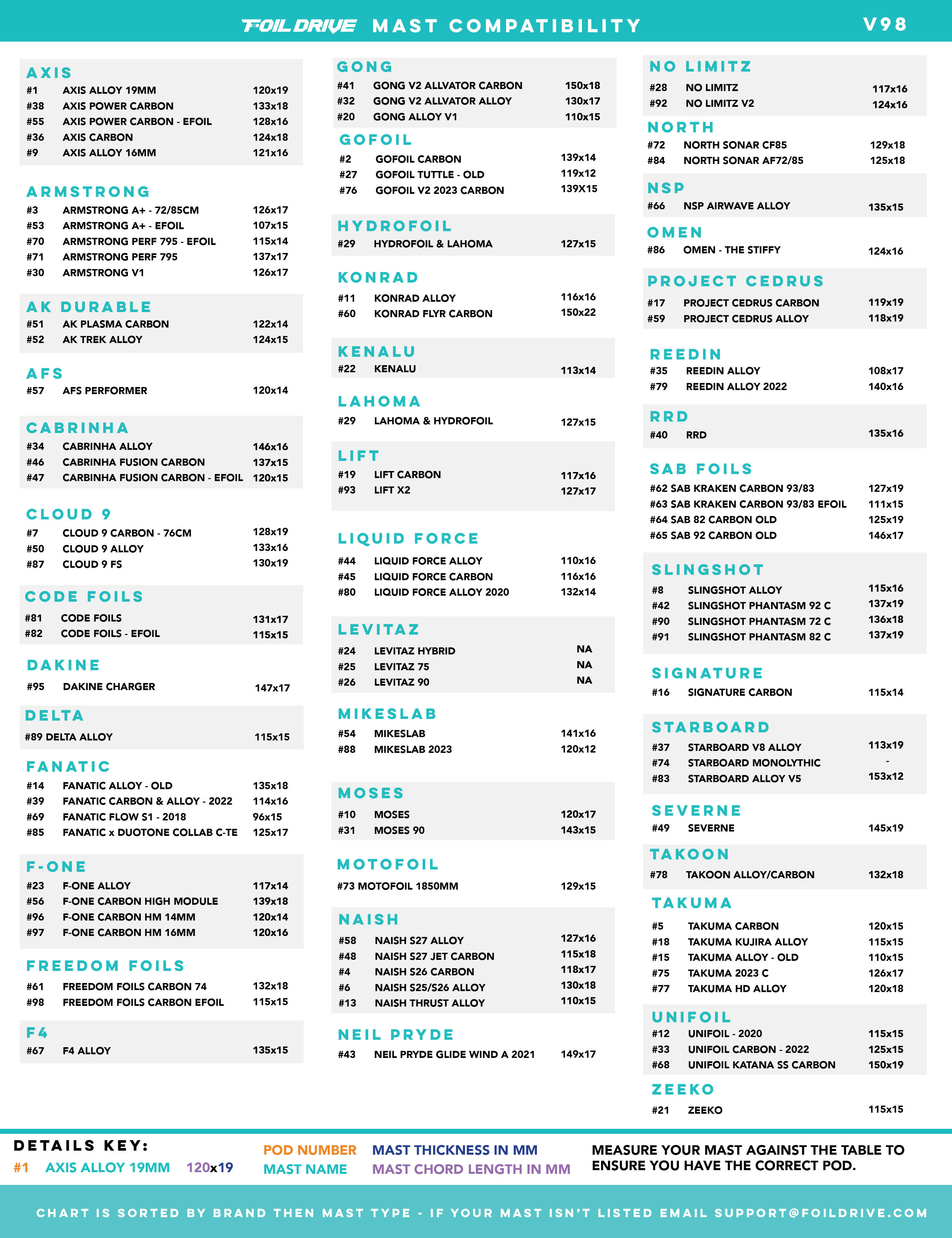 DOUBLE CHECKING MEASUREMENTS
The two key measurements to ensure you have the right pod is to compare the cord length (from trailing edge to leading edge) and the thickness (how wide the mast is). 
Note: Measurements not specifically named "E-foil" are taken 20-25cm below the mounting plate of your mast, this is important for tapered masts.
WHAT TO CONSIDER IF YOU HAVE A TAPERED MAST
Our pods have been designed to fit exactly 25cm below your board at the top of your mast, however, some masts are tapered and may affect what adjustments you have to make to mount your pod.
Note: Masts brands like Armstrong, SPG, Lift and Cloud 9 have quite an aggressive taper. We are working on providing pod options for extreme tapering that will allow a snug fit when mounting closer to the fuselage and we will keep you updated when these are available.
MY POD IS SLIGHTLY TOO BIG 

If the pod is only slightly bigger than the mast, you can add thin layers of electrical tape or insertion rubber to pack it out. 
Be careful not to add too much! We recommend adding one layer at a time.
Watch this video below to learn how to adapt your pod to different positions on your tapered mast.
CABRINHA FUSION CARBON MAST
If you have a Cabrinha Fusion carbon mast, please watch this video below before ordering your pods. 
Was this article helpful?