Measuring your Mast to Order a Custom Foil Drive™ Pod
Updated 4 months ago
We are constantly growing our range of compatible masts and now have over 70 different motor pods available. If your pod is not listed, follow the instructions below on how to accurately measure your mast to create a custom pod.
WHAT TO DO IF YOUR POD IS NOT LISTED
1. Firstly, if you haven't already, please read through our blog about Selecting your Motor Pod first. This talks you through why it's important, and what to consider! 
2. Secondly, email [email protected] to ensure we aren't already working on a pod to suit your mast. 
Note: If the mast is old and no longer in production, we are still able to help although this may occur an additional fee (custom pod).
CREATING A CUSTOM POD
From here we'll need your help to assist us in creating an accurate profile. 
What you'll need
1. Your mast
2. A piece of paper
3. Your phone or camera
Option 1 - Trace Profile Tool - You can find these at hardware stores. The pins need to be fine (individual pins below 1mm are perfect)
Option 2 - An extremely sharp pencil - We recommend a Mechanical Pencil 
Instructions
1. Please copy & paste the below information into your email with answers when providing your trace:
Mast name:
Weblink to the mast (Allows us to correctly name the pod):
Date of original enquiry:
If you've spoken with someone already, please name:
Mast chord:
Mast thickness:
BEFORE YOU START
2. The trace must be as clear and accurate as possible as the print file is with 0.05 of a mm of accuracy.
3. The fitment of the motor pod is very dependent on the original trace file, if it is not as tight as possible, we may have to re-do the process.
4. If your profile comes back to us and isn't perfect, we may ask you to re-trace.
5. You're welcome to have a few attempts and send them all through, we will pick the best, however, we do need 1 perfect trace, we cannot combine multiple traces.
Option 1 - Trace Profile Tool - Suitable for Carbon Masts
1. Place your mast on a flat surface and measure 25cm (9.84252 Inches) down from the base plate. This is where all of our pods have been designed to fit, this is most important if your mast is tapered.
2. Grab your Trace Profile Tool and press it on a flat surface so that the pins are all level and evenly spread on both sides.
3. Keeping the tool level, slowly press down on your mast and stop as close to the centre line of the mast as possible. This is easiest to watch one side at a time as per Paul's video. 
Note: Image two below indicates how you need to pull down a pin to mark the exact centre line of the mast. Without this, we do not know where your trace starts and finishes.
4. Once happy with the trace, pull down any excess pins so that we can determine where your trace starts and ends. This is super important to define - See picture 4!
5. Measure the chord and length of your trace including at least one decimal and write beside your trace drawing.
6. Place the Tracing tool on a white piece of paper, on the ground and stand directly over it. You need your camera/phone to be directly above the Tracing Tool and above 1.5m (4.9 feet) above it. Use as much zoom as you can to get the highest resolution picture as possible. 
7. Ensuring there is adequate lighting, take the picture and send it as a High Quality Image as a response to the existing [email protected] thread you created - Including the answers to the dot points at the start of this blog.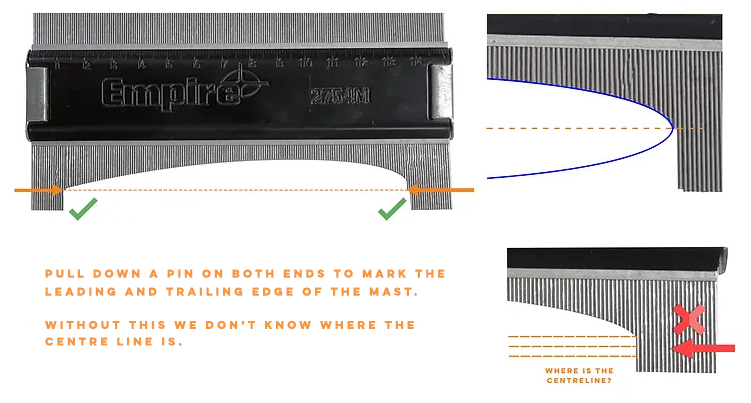 Was this article helpful?