Universal Motor Pod for Foil Drive
Updated 2 months ago
New and improved V2 Motor Pod for Foil Drive
Assist and Assist Plus Systems 


Foil Drive is excited to release its latest innovation - the v2 Motor Pod! The v2 motor pod has been developed to provide our customers with the most cost-effective way to use our system on a range of masts without the need to purchase multiple pods. This latest design is highly durable, made from injected molded poly carbonate with fiberglass reinforcement and can be used with almost any mast on the market. To customise the pod, simply purchase the inner Mast Adaptor needed, and use with the outer sleeve with all your favourite masts!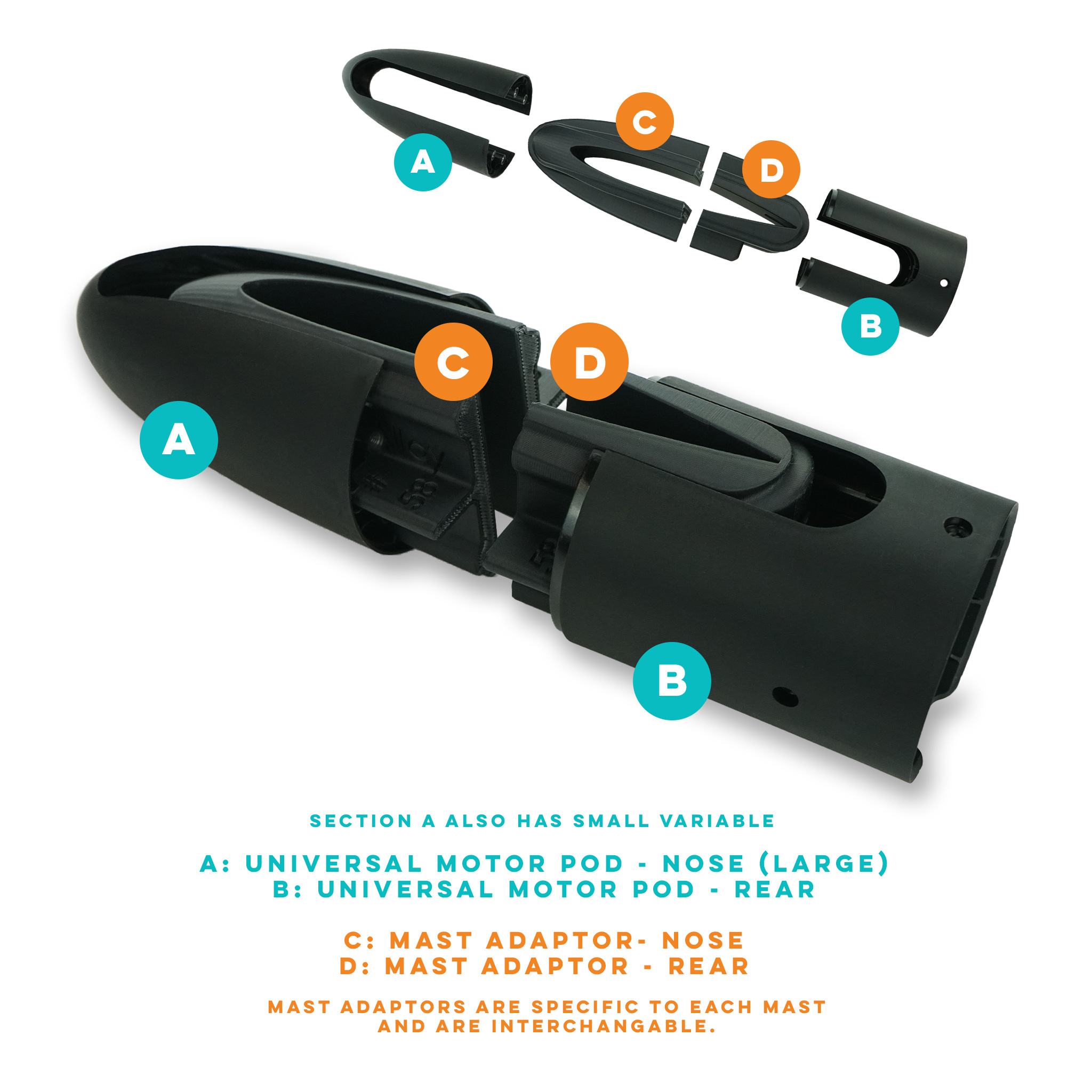 Watch this video below to learn more about why we moved to the Version 2 pod. See installation video at end of article.
Highlights:
- Highly durable, injection moulded construction
- Universal Motor Pod outer sections
- Custom inner sleeves 3D printed Mast Adaptor
- Sleek, completely smooth design, improving hydrodynamics to ensure minimal drag 
- Cost effective
- The new v2 pod will come with 2 x nose cones and 1 x rear. Use the same outer shell and only require new inner sleeves to adapt to your new mast. 
The v2 motor pod will come standard with all new Foil Drive™ Assist and Assist PLUS orders and will also be available to purchase as a replacement from our website. 

Installing the v2 Motor Pod
Watch the video below to learn how to correctly install your new V2 motor pod.
What you will need:
- Foil Drive hex driver
- M3 x 12mm bolts (Different to v1 pod screws, these are now the same bolts you use for the Puck!) 
- Front + Rear outer Universal Motor pod + internal Mast Adaptor to suit your mast
Instructions:
1. Orientate your pod on your mast - Pointing text on pod towards the base plate (Made to fit between 18cm-20cm from base plate. Only relevant for tapered masts).
Note: If you have a tapered mast and you want to move your pod down the mast, you can pack it out with tape on your mast, to fill the void. 
Note: On a tapered mast, if you're having trouble getting the pod onto the mast, insert the pod in the thinner section of the mast and slide it down, close to the position you would like to secure it. 

3. Insert each bolt on the outer shell until it grabs the front cone, then position your pod (Shimmy up and down) to its final position.
4. Once you have the pod where you want it, tighten each bolt to take up tension.

If you have any issues, please reach out to [email protected] and we will be happy to assist you.
Happy Foiling! 

Was this article helpful?