Cleaning Your Kit
Updated a month ago
SALTWATER, SAND AND YOUR KIT
Saltwater is the most brutal operating environment for electronics and can take its toll if not well managed. 
The custom motor has an epoxy coating to completely seal the motors exposure points. We have coated the magnets to resist water ingress and use 100% ceramic ball bearings. This will ensure critical spinning components won't rust and should run for a long time when properly cared for.
Keep all components out of the sand and never flip your board upside down with the electronics box open. Sand in spinning motors and bearings cause excessive wear and damage to waterproof coatings. If you do get things dirty, carefully washing or wiping them with warm, fresh water will help dissolve any built-up salt. Follow the instructions below to safely maintain your gear.
AFTER USE INSTRUCTIONS 
It is imperative you complete the following: 
AFTER EVERY USE:
1. As soon as you can, rinse the system with fresh water to remove initial saltwater, sand, and debris. 
WARNING: ENSURE THE BOX LID REMAINS CLOSED AND DO NOT WASH YOUR BATTERY 
2. Remove the outer rotor off the stator in order to clean the internals thoroughly. (For pre 2023 kits, you will need to remove the circlip to be able to do this. Click here to learn how).
3.  A dry towel can be used to wipe down the internals of the electronics box if humidity has built up moisture. 
ONCE YOU ARE HOME: 
1. Submerge your motor in a bucket of warm, fresh water and spool the motor to thoroughly flush it out. 
2. Remove the motor from the pod and the pod from your mast as salt water can build up between these areas. 
3. Submerge your controller in fresh water for 5 minutes. Remove and shake out water. 
4. Inspect power cable, latches, cable gland and the box seal for any damage (Video here).
5. Ensure battery, internal cavity of box and power connector are dry and sand free. 
6. Store with the lid open in a dry environment.
ONCE A WEEK, MINIMUM:
1. Remove all components including box, motor, pod, puck, propeller hub, mast cable guides and controller mount in order to thoroughly rinse everything with warm, fresh water (NOT HOT).
2. Check your system over and ensure your bearings are running smoothly with no large chips or cracks present in the hub or propellers. 
3. When re-assembling, this is a good time to submerge and run your motor in warm water once again. After pulling everything apart, stubborn salt should now come off.
Much like any equipment exposed to salt, maintenance and due care is required. 
See video below for guidance on how to clean your gear after each use, as well as detailed cleaning to be carried out at least once a week.
ELECTRONICS BOX AND CABLE GLAND
The most likely thing to cause failure is sand and debris damaging or obstructing the lid seal of the electronics box or the waterproof gland for your cable.
Note: It is imperative that the seal and waterproofing gland remain in perfect working order to protect the electronics inside the box. 
CHECKING AND CLEANING THE ELECTRONICS BOX
1.Use a clean, lightly damp cloth (fresh water) to wipe the box lid seal. 
2. Ensure the grommet in the cable gland is not damaged, correctly seated and is tight. The cable gland will need tightening periodically. 
Note: There is a black ring marked on your cable where it meets the gland. If you notice this has shifted down, you will need to reseat the cable. DO NOT USE UNTIL IT HAS BEEN FIXED.  
COMMON SIGNS OF POOR CLEANING AND MAINTENANCE

Saltwater is extremely corrosive, and the battery terminal plugs are susceptible to corrosion. These plugs must be kept clean and dry at all times. 
WARNING: DO NOT ATTEMPT TO CLEAN THE BATTERY TERMINALS. SHORT CIRCUIT WILL DESTROY YOUR BATTERY AND CAN BE DANGEROUS!
Contact Foil Drive™   at [email protected] if you feel there is corrosion beginning to form on your battery terminals. In your email, be sure to add in photos of your terminals so we can make a better assessment of the condition. 
WARNING: DO NOT USE YOUR BATTERY UNTIL FURTHER NOTICE. 
If on inspection during your routine cleaning, you find you have damaged or worn-out parts, check out our articles for repairs and maintenance here. 
If you do not feel confident in servicing your equipment or have any questions and need assistance, please email us at [email protected].
If you are finding it difficult to remove your rotor (motor can) from your stator, click here for guidance.

NOTE: When placing the motor can/rotor back on the stator, you MUST use two hands to slowly guide it back on. Once the magnets grab, you must ensure the rotor doesn't slam against the stator otherwise you risk damaging your bearings.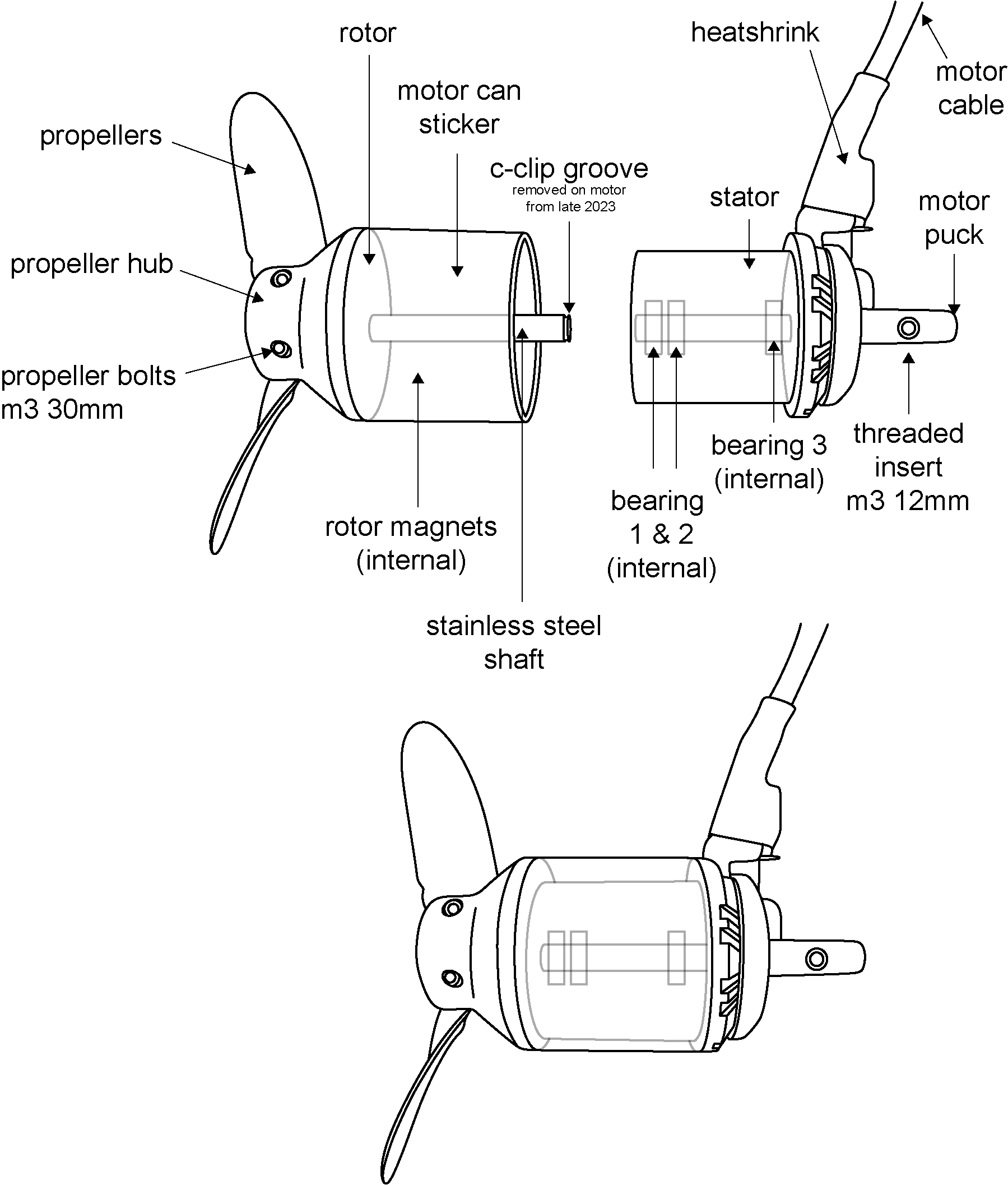 Was this article helpful?